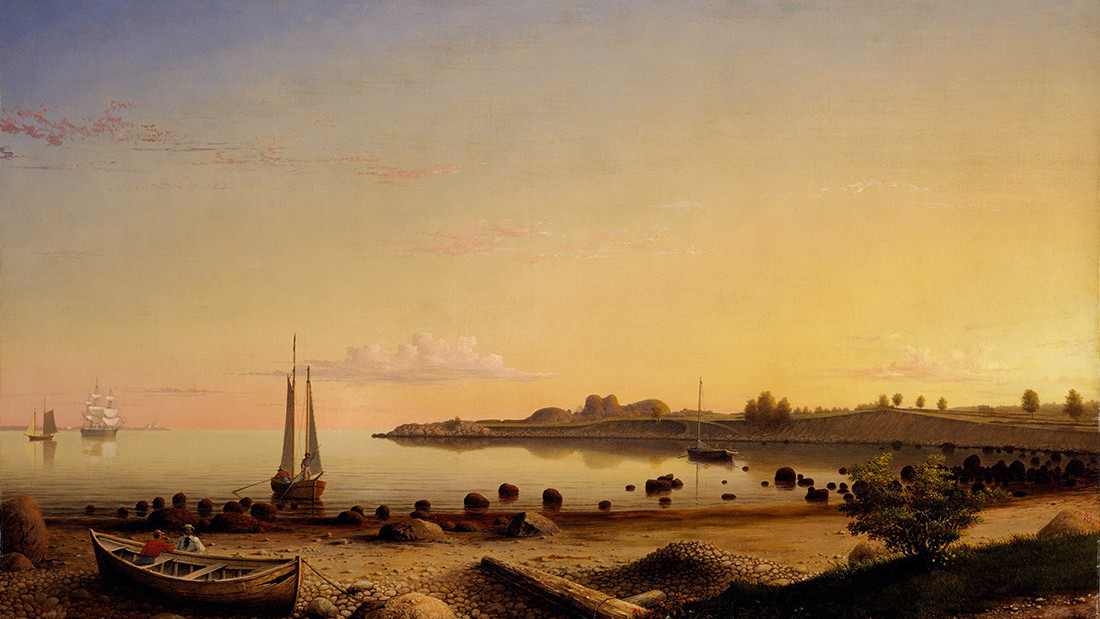 Fitz Henry Lane
Stage Fort across Gloucester Harbor
Stage Fort across Gloucester Harbor
Lane returned to his native Gloucester from Boston in 1848. His works of the 1850s and 1860s are successively purged of genre and topographical elements, becoming increasingly spare and essential. By 1862, Lane had engineered a seamless, self-effacing style, possibly influenced by the works of Martin Johnson Heade. Stage Fort, once the site of military fortifications, sits on an arching land form used to lead the viewer's eye into the glowing, lucid, and almost eerily still distance. Despite the disjuncture between the virtually surreal, meticulously painted foreground and the sheer plane of water near the horizon, this work marks the transition to Lane's final, taut, elemental style. The painting's disquieting stasis, even with its hopeful pink and golden glow, creates a hermetic, elegiac mood found in many of Lane's late works.
Price: Free Digital Edition: 0
Fitz Henry Lane (born Nathaniel Rogers Lane, also known as Fitz Hugh Lane) , 1804 – 1865, was an American painter and printmaker of a style that would later be called Luminism, for its use of pervasive light.