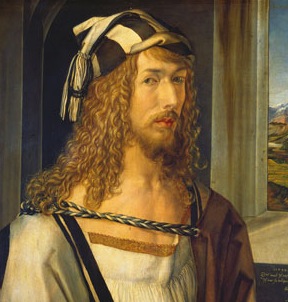 Albrecht Dürer
Selbstportrait
Selbstportrait
Self-portrait (or Self-portrait at 26) is the second of Albrecht Dürer's three painted self-portraits. In this work, executed in oil on wood panel in 1498, Dürer haughtily elevates himself to the social position he believed suited to an artist of his ability. Dürer depicts himself indoors under an arch, in half length, turning towards the viewer. Painted after his first trip to Italy, he is depicted bearing an arrogant, cocky expression which betrays the assured self-confidence of a young artist at the height of his ability. Dürer's presence dominates the pictorial space, from his hat which almost reaches the top of the canvas to his arm positioned on the lower ledge, where he rests his fingers enclosed in fine rich gloves.

Price: Free Digital Edition: 0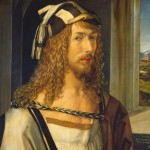 Albrecht Dürer, 1471– 1528 was a painter, printmaker, and theorist of the German Renaissance. Born in Nuremberg, Dürer established his reputation and influence across Europe when he was still in his twenties, due to his high-quality woodcut prints. He was in communication with the major Italian artists of his time, including Raphael, Giovanni Bellini and Leonardo da Vinci, and from 1512 he was patronized by emperor Maximilian I. His vast body of work includes engravings, his preferred technique in his later prints, altarpieces, portraits and self-portraits, watercolours and books. The woodcuts, such as the Apocalypse series (1498), retain a more Gothic flavour than the rest of his work. His well-known engravings include the Knight, Death, and the Devil (1513), Saint Jerome in his Study (1514) and Melencolia I , which has been the subject of extensive analysis and interpretation. His watercolours also mark him as one of the first European landscape artists, while his ambitious woodcuts revolutionized the potential of that medium. Dürer's introduction of classical motifs into Northern art, through his knowledge of Italian artists and German humanists, has secured his reputation as one of the most important figures of the Northern Renaissance. This is reinforced by his theoretical treatises, which involve principles of mathematics, perspective, and ideal proportions.