Schatten
Describing something as abstract can become such a common word we lose the true sense of its meaning. Things so often called "abstract" are simply slight alterations to understandable visions. Are the fluctuating patters of light and shadow from blowing trees, the reflection of water, or something else entirely? What solid backdrop displays the image? Given the mystery of the piece, it captures the true essence of the term abstract like few others do.
Price: €5 Digital Edition: 100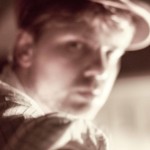 Thomas Seher is a composer and musician for film and theater. A few years ago he discovered the art of cinemagraphs and since then has been exploring the boundary between photography and film. His works decelerated movements open up a new perspective and invite observing changes. The motives are scenes, either real or staged, which gain a special artistic moment through they way the images are digitally processed. The continuous playback on the digital canvas provokes the impression of a smooth, ongoing movement. There is no cut, no change of perspective or camera panning - this is what makes it so captivating.