Oasis
Even in the rocky sands of the desert, one can find an oasis if they search long enough and struggle long enough. No good exists in this world without some pain, but no pain exists without the possibility of redemption. Oasis reminds the viewer the paradise does not always exist among a beautiful or pleasant setting. Sometimes shelter lies in the middle of hardship.
Price: €5 Digital Edition: 100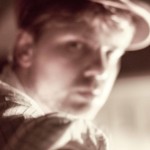 Thomas Seher is a composer and musician for film and theater. A few years ago he discovered the art of cinemagraphs and since then has been exploring the boundary between photography and film. His works decelerated movements open up a new perspective and invite observing changes. The motives are scenes, either real or staged, which gain a special artistic moment through they way the images are digitally processed. The continuous playback on the digital canvas provokes the impression of a smooth, ongoing movement. There is no cut, no change of perspective or camera panning - this is what makes it so captivating.