Carpathians
Carpathians takes an all too rare sight and asks for deeper consideration. When did you last see a pig outside of the mud? The growing discomfort from showing how comfortable the animal is in a clean, open field tells the viewer that their discomfort comes from their own limitations of perception.
Price: €50 Digital Edition: 150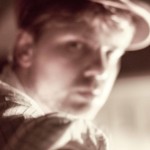 Thomas Seher is a composer and musician for film and theater. A few years ago he discovered the art of cinemagraphs and since then has been exploring the boundary between photography and film. His works decelerated movements open up a new perspective and invite observing changes. The motives are scenes, either real or staged, which gain a special artistic moment through they way the images are digitally processed. The continuous playback on the digital canvas provokes the impression of a smooth, ongoing movement. There is no cut, no change of perspective or camera panning - this is what makes it so captivating.