Busch
With undertones of sadness and isolation, it is easy to focus on and the loneliness of a lone plant growing from a harsh, vast desert environment. But the plant does not grow because it is weak. It grows because it is strong. Despite being alone, a feeling of triumph and determination seep out from the oppressive setting around it.
Price: €50 Digital Edition: 150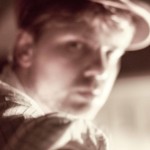 Thomas Seher is a composer and musician for film and theater. A few years ago he discovered the art of cinemagraphs and since then has been exploring the boundary between photography and film. His works decelerated movements open up a new perspective and invite observing changes. The motives are scenes, either real or staged, which gain a special artistic moment through they way the images are digitally processed. The continuous playback on the digital canvas provokes the impression of a smooth, ongoing movement. There is no cut, no change of perspective or camera panning - this is what makes it so captivating.